TAG's Recommended Links
BRONZE BUST SCULPTOR
JEAN ROBILLARD
For the 25th anniversary of Marc Bolan's death Rolan Bolan unveiled a Bronze Bust of his father at an official ceremony with Mickey Finn, other members of T.Rex & Marc Bolan's older brother in attendance. This bust was produced by this talented Quebec Sculptor & commissioned by TAG for their 'Tree Site' in Barnes, London.
T(YRANNOSAURUS) REX BAND MEMBER SITES

Web Mistressed by Fee of TAG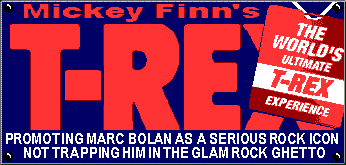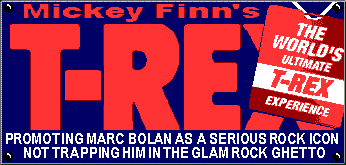 FLICKR
FLICKR is a terrific photo sharing site. Sign up not only to upload your own photos, but also to comment on ones up already. Flickr is the 'home' of some of the best photos of Marc's Rock Shrine you can find outside out own site (LOL). Here are some recommended Flickr Photos:-
NORMKO - Some great long exposure night photos, which can now be found on our web site in their own gallery Here

WEB SITES THAT LIST MARC'S SHRINE


Shady Old Lady's TOP 10 INTERESTING DEATH SIGHTS IN LONDON
The Bolan Tree is Listed & currently at #1 - So visit this link & keep Marc's Tree where it should be - AT NUMBER 1
RECOMMENDED TRIBUTE BANDS (ALPHABETICALLY - NOT IN ORDER OF PREFERENCE!)



Watch Too Rex 20th Century Boy Live Half Moon Putney 11 09 08 filmed by Club Member Colm
RECOMMENDED WEB SITES


Web Mistressed by Club Member Trisha


'T.REXTASY' GREAT JAPANESE BOLAN TRIBUTE SITE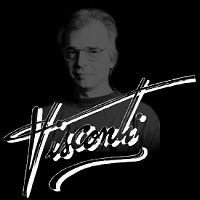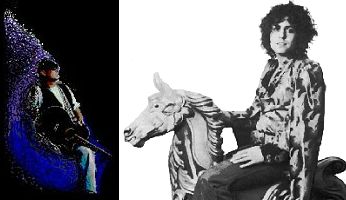 DOUGAL'S SITE WITH INFORMATION & PHOTOS OF MARC BOLAN'S ROCKING HORSE - TEMPORARILY OFF LINE
PUT SOME STYLE ON YOUR WALLS!
Nice to see one of Tyrannosaurus Rex with Steve Peregrin Took too! :-)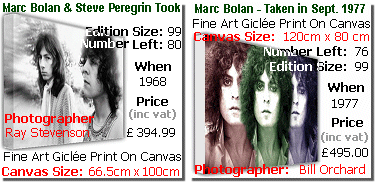 NICE - THOUGH PRICY! These two Beautiful Fine Art Giclée Prints On Canvas are available as limited editions. Use the following links for all the (mapping) gen.


Marc Bolan & Steve Peregrin Took


Marc Bolan: September 1977. Of the session Bill Orchard said: "Photographed at and around his home in Earls Court in 1977, including some shots on a skateboard! "He was the nicest man – not at all precious or arrogant as I'd assumed. After session, went for several drinks at a nearby pub, which Marc insisted on paying for. He suggested some other pictures we could do at a later date, but unfortunately it was not to be, as he died in a car crash only a couple of weeks later."
JAMES THE ARTIST'S WEB SITE INCLUDING MARC BOLAN ART
A BIG TANX FOR OFF TO ALL THE WEB SITES WHICH GIVE LINKS TO TAG.
ONES WE'VE FOUND INCLUDE THE FOLLOWING (IF YOURS ISN'T HERE LET US KNOW YOUR URL):
http://www.tadaima.com/trashland/marc/link_marc.html Japanese Site - The TrashLand "I Love Marc! site"
http://www.lds.co.nz/contents.htm - Mostly Slade Site (but with Hendrix, Ozzy and other pages too).
http://www.hipsters.narod.ru/links.html - The Poet In Hipsters & Me As A Jeepster Russian Site
http://www.geocities.com/glamrockgrrl/planetstardust_links.html - Planet Star Dust - Glam Site
http://www.easthollow.com/trex/faq.asp - Ballrooms of Mars
http://www.brianmaynews.com/queen/queennews/queennewssep02.html - BRIANMAYNEWS.COM "Queen News"
http://www.artistdirect.com/music/artist/card/0,,405953,00.html
http://www.angelfire.com/tx/marcbolan/main.html - The Space Boss
http://www.eartothesound.fsnet.co.uk/trex/trex_sites.html
http://www.marcbolan.de/links.htm - German Fan Club
http://www.trextacy.com/200209/special02.html - WONDERFUL 2002 TREE PHOTOS ETC
BACK TO THE TOP