MEMBERS RENEW / NEW MEMBERS JOIN HERE
With over 80 Gig of T-Rextra Special Goodies.The TAGTM Members Site is NOT Run for Profit.Membership coversYour Membership Pack with a DVD, or other item, exclusive Club Fridge Magnet, and Membership CardThe balance of your Membership charge is used for Postage & Packing of your Membership Pack, and to cover the costs of our server, Bandwidth charges, & Domain Name fees.Choice of four DVD's, and new added Goodies - See below for full detailsJoin for just £6.00 a year + P&PWe also have Members Exclusives & Special Offers.
Memberships are added manually by the Dworns we keep in the basement
They are rather like some of the 'House Elves' seen in Harry Potter. This means they can be temperamental and so although your membership should be processed within three days (72 hours (Monday to Friday) sometimes it can take a little longer. Please do bear with us. You can also join By Post - Click Here.
SCROLL DOWN FOR YOUR
EIGHT BONUS CHOICES










Simply use the 'Add a note'
option to tell us which gift you
would like with your 12 month membership. Make sure we have your address too!




GREAT FOR THE MEMORY OF MARC & T-REX!
Below:- The Site before TAGTM's GuardianshipBelow:- Rolan & Harry at the Bronze Bust Unveiling in 2002

TAGTM (T-Rex Action GroupTM) was founded over 18 Years ago! Since then we have transformed the site described as "a shit-hole" in a magazine in 1995 into somewhere Marc Fans and local residents are rightly proud of. Especially since our Bronze was unveiled by Rolan in 2002 & the Memorial Plaques were installed in 2005. In 2000, we saved 'The Bolan Tree' which was scheduled to be felled by the end of 2002. Sadly in 2014 'The Bolan Tree' was hollowed out and filled with poison and poluted the ground around the roots. We don't know why this was done. We only know 'The Bolan Tree' died and sadly in 2015 she had to be felled due to Health and Safety because it was next to a busy main road. At least TAGTM can be pleased we gave 'The Bolan Tree' an extra 13 years of being in situ allowing literally thousands of fans from around the globe to visit.

OFFICIAL RECOGNITION
In 2007, the year of Marc's 30th Anniversary we are Proud to say that the site is now Officially Recognised as a Sight of Rock and Roll Importance as Marc Bolan's Rock Shrine by the English Tourist Board. This is something which would never have happened had we not taken the Action which was needed and more besides!

Below:- The Site after TAGTM's work (with 'The Bolan Tree in situ.)Below:- June's Daughter Ilona at the Memorial Plaque Ceremony in 2005

T-Rex Action Group PO Box 5278, HOVE, BN52 9QP, UK
Email Us
Review our Refund & Data Storage Policy Click Here

PROBLEMS JOINING VIA THE PAY PAL BUTTONS
After some reported problems, we've redesigned the button (see left). If you still have problems visit www.paypal.com & use 'Send Money' to make the payment to Subscriptions@Marc-Bolan.net. Please pay in Pounds Sterling (GBP) - Pay Pal will convert this for you.
For All User Name/Password/Membership Queries please Email

When you join for just One year you will receive one of the Goodies below
We will be changing the DVD's every so often depending on feedback and whether everyone has got the ones we want. The costs are shown for the UK, Europe and outside Europe due to the varying shipping costs. All DVD's are now posted out in Slimline Jewel Cases with a two page booklet.
1) MARC BOLAN PENDANT & CHAIN - DESIGN ONE
This lovely silver-colour surround pendant is a wonderful way to show you're a Bolan Fan in a tasteful way. Wear it with any outfit :-) Comes with silver-colour chain and gift bag.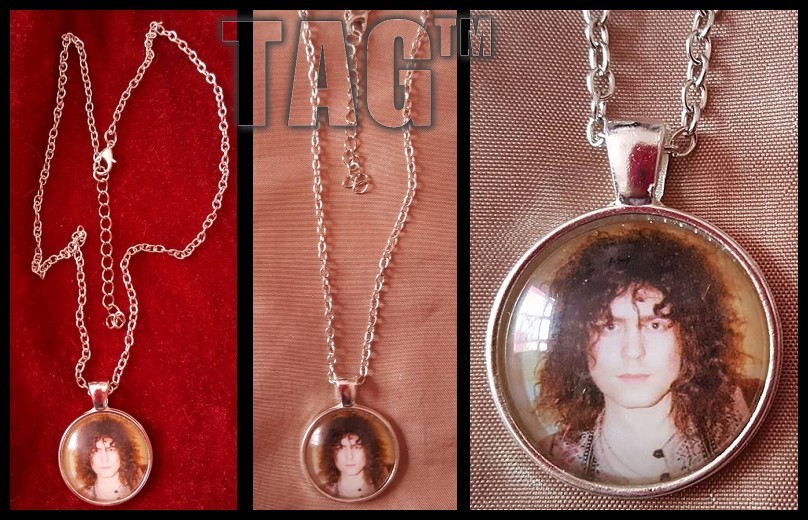 2) MARC BOLAN PENDANT & CHAIN - DESIGN TWO
Adorable pendant and chain. A statement piece with black surround and black chain. Comes with chain and gift bag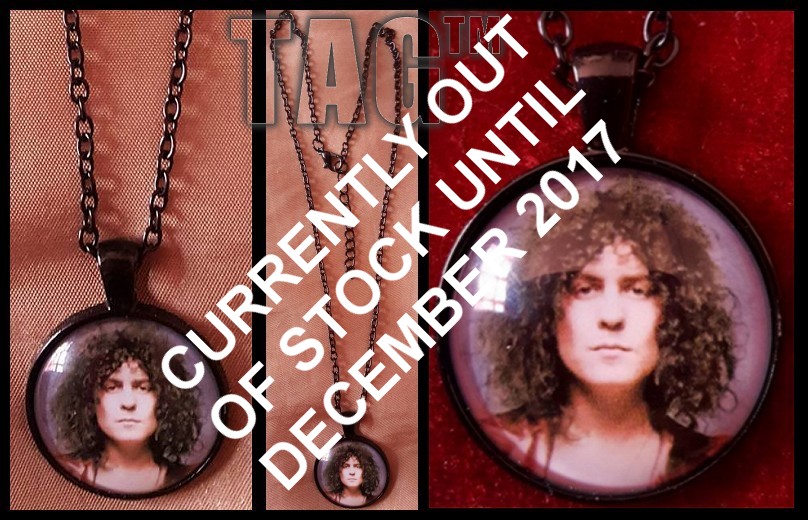 3) MARC BOLAN 100% RE-CYCLED NATURAL BAG
Navy Print on a Natural bag made out of 100% recycled PET.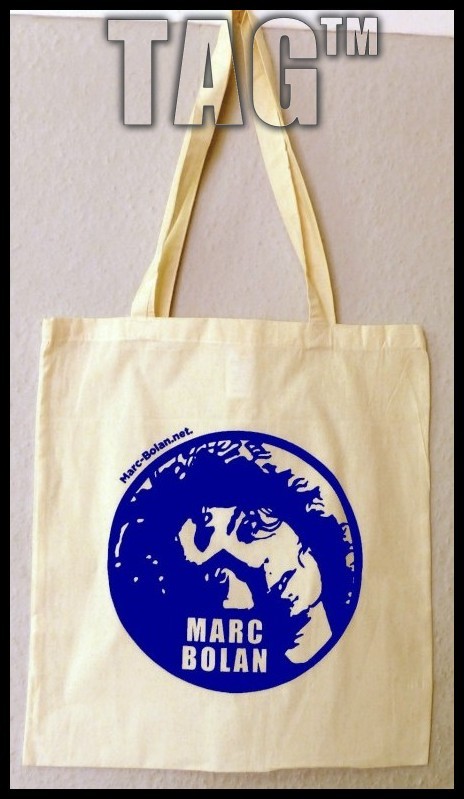 4) A SET OF PHOTOGRAPHS
This fantastic set of 17 genuine Photographic Prints (Not Inkjet!) shows Marc's Shrine from 1977 to 2016, PLUS photographic prints taken by June Bolan of Marc during their holiday with Ringo Starr, and George Harrison.*
* Copyright is retained by Mrs. Fee Warner. For commercial use including web sites, books, magazines, please contact us for rates.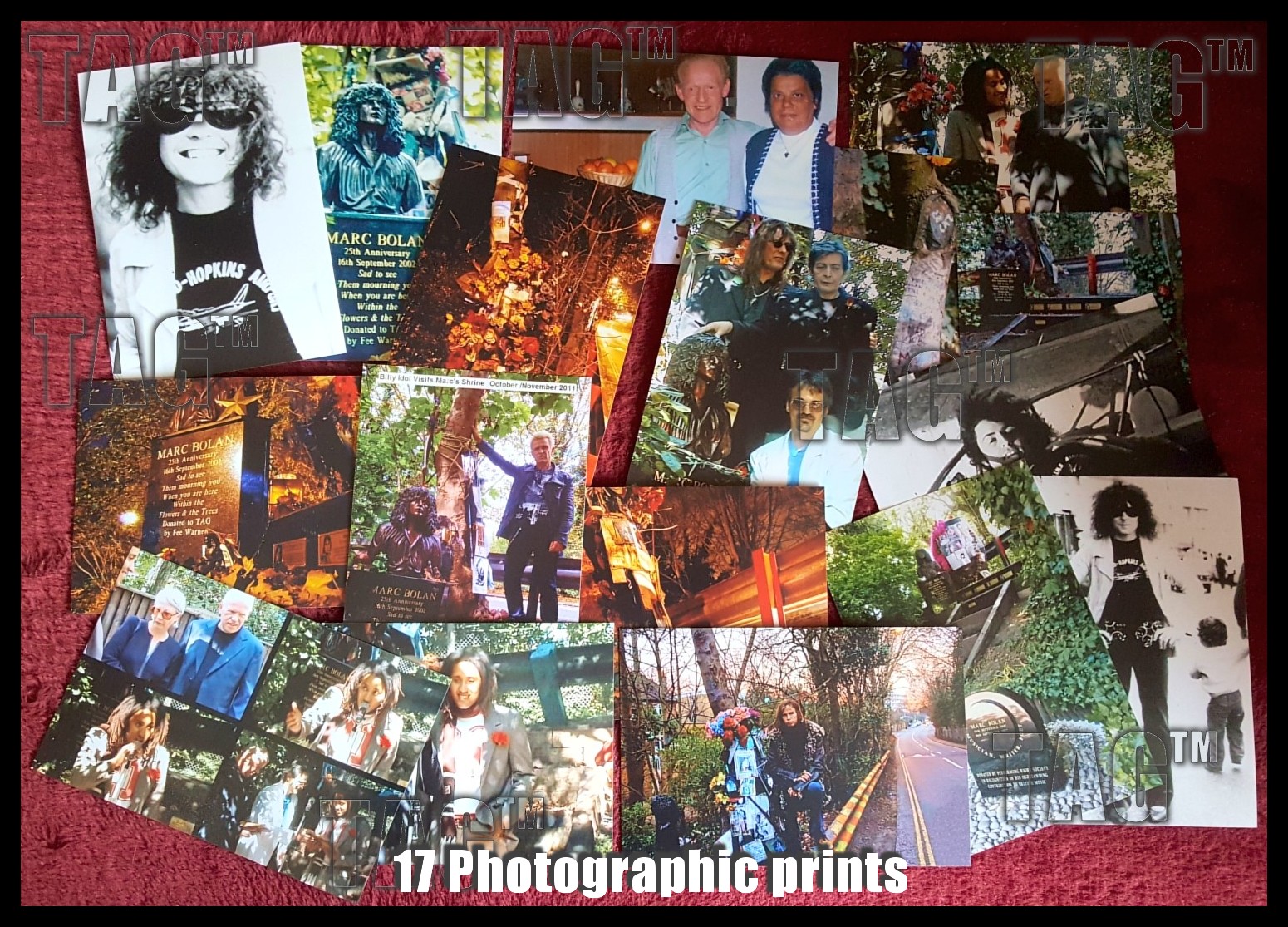 5) HOUSE OF ROCK - ALL THE MARC EPISODES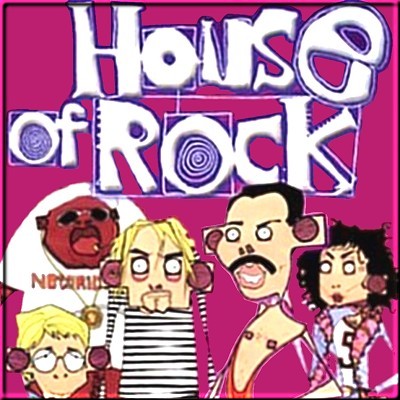 HOUSE OF ROCK: contains all the Marc Episodes from Series 1 plus his vote out of the house in Episode 1 of Series 2. Please Note: Series 1 has never been released on DVD and has come from VHS recordings. Therefore the quality is not that of a DVD. Even so it is worth having, though be warned all the musicians are treated irevelantly (in some people's eyes) and Marc does get voted out at the end of the final episode on the disc.
6) MARC'S MISSING MILLIONS WITH 1 HOUR OF EXTRAS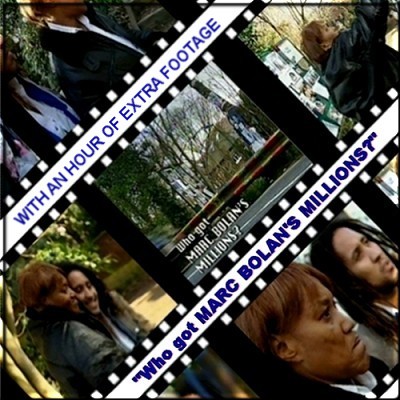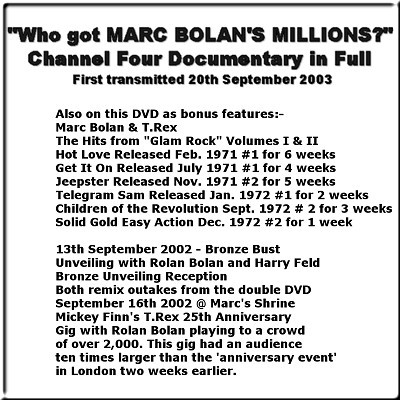 MARC'S MISSING MILLIONS : A two hour DVD containing the 2003 60 minute documentary 'Marc's Missing Millions' plus an extra hour of footage from the 25th anniversary events including out-take footage from the Bronze bust Unveiling and the Mickey Finn's T.Rex Gig with Rolan Bolan guesting to a crowd of over 2,000.
7) TAGTM's MARC BOLAN STONEHENGE EVENT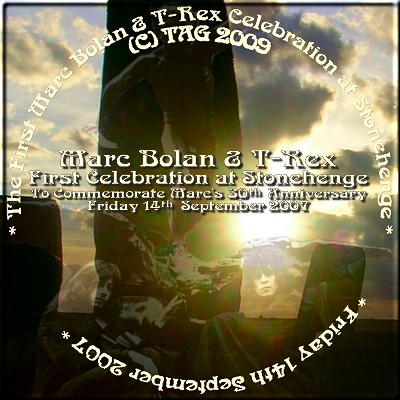 TAG MARC BOLAN STONEHENGE EVENT: This was recorded during a private visit to Stonehenge booked especially for TAGTM members. Paul Fenton and Rob Benson of Mickey Finn's T.Rex provided un-amplified music as did Sharny Cameron-Gillings. As the event was close to the Autumnal Equinox there is also a Ceremony to remember Marc and all those who had passed over. The ceremony was led by Rollo Maughling: who was at the time Archdruid of Stonehenge and Glastonbury. He was assisted by Victoria Marsden Acting Arch Druidess of Stonehenge and Glastonbury.
8) DAYS IN YOUR LIFE - 1947 - 60 MINUTES
Ideal for people who did not grow up in the UK and want to get a 'taste' of what Britain was like when the young Master Feld arrived in to the World.