PLEASE WAIT FOR THE 'SITE MAP'
IMAGES ON THE RIGHT TO LOAD!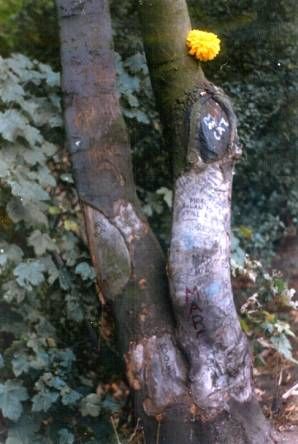 Welcome to the History of Marc Bolan's Rock Shrine, for information and a history of one of Britain's Most Important sites, 'The Tree', Queen's Ride/Gipsy Lane, Barnes, London, spanning nearly Thirty Years!

In the 30th Anniversary Year of Marc Bolan's Passing (2007), the site: Marc's Rock Shrine was been given the Official Recognition It so Richly Deserves by Enjoy England (formerly the English Tourist Board). The New Guide "England Rocks!" identifies the holy sites of English Rock 'n' Roll.
A page on TAG founder Fee is included because it is now difficult to seperate the History of The Tree from Fee's own history, because it was due to becoming a Marc Bolan fan that Fee started visiting The Tree.

Her first visit was on September 24th 1977. She has been a regular visitor ever since and founded TAG in 1999 to care for & improve the site & to Save The Tree which would have been felled around four years ago!!!!! had it not been for TAG's intervention.
In March 2002, the association between Fee and Marc Bolan's Rock Shrine was further stengthened when Fee agreed to Save the Bronze Bust Project by paying for it personally.

The Bronze was to be placed at Golders Green Crematorium. But with six months to go the organisers/fund raisers pulled out and left the sculptor completely in the lurch with a finished wooden sculpture and seemingly no way of realising the project or even getting his promised expenses paid. This is just one of the shameful insidents related to one part of Marc Bolan 'fandom'.
Please use the links below to read about the History of the Tree for almost thirty-four years. Plus get maps, train time table links, magazine/newspaper scans, videos and photo galleries of The Tree Site including ones taken by Fee from 1978.
All external links were correct as of 24th January, 2011